Are you attracted to the world of art? Behind creativity and originality, it is a business just like everything else, but a very special one at that. At IBS you can study arts management and learn to navigate between the players of the market to be successful.
This double degree programme of studies between IBS (Hungary) and The University of Buckingham (UK), delivered in Budapest, covers the core knowledge and skills related to your programme using an interactive and practice-oriented approach to teaching and learning in small groups, and it also includes the UpSkill programme, our HR award-winning employability skills development framework as part of your studies.
Duration of programme
6 semesters
Starting date*
February and September
Tuition fee per semester
€ 3,700
Tuition fee for the full programme
€ 22,200
One-off registration fee for non-EU citizens
€ 900
Degree awarded by
The University of Buckingham and IBS
Common first year
Yes
Work placement available
Yes
Study abroad available
Yes
Campus
Budapest
Admission criteria
• Secondary school leaving certificate
AND
• IELTS 6.0 or equivalent**
Language of tuition
English
*Due to the ongoing health crisis that limits international travel, we enable all our applicants to start their studies online in the first year.
** i.e.: TOEFL 72, GCSE English , Duolingo 95, IBS own English testing, etc. Please find further details here
This is a specialisation of the Business Management programme.
This programme trains you to be successful in managing the people and the organisations that make up the arts and events communities. You will not only gain insight into the history, funding, ownership and creation of arts, including the music industry. By taking optional modules, you can immerse yourself in special areas of interest, such as pop music, the film industry or gallery management.
We give considerable importance to increasing students' employability skills. IBS has set up its UpSkill scheme, which enhances and develops the skills which are most demandable in the job arena to ensure that our graduates have an advantage over others in job applications. Read more about it here.
Please find the curriculum here.*
* IBS reserves the right to change the curriculum.
Please find the programme specification here.
Please find the degree sample here.
By taking optional modules, you can immerse yourself in special areas of interest, such as pop music, the film industry or gallery management. Many graduates work as curators in art galleries or museums, or as writers or consultants working in areas related to visual culture and the art market. The training and skills you acquire will also prepare you for a whole range of careers that are not necessarily related to your subject of study.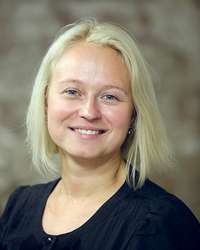 "I liked that IBS trained us for life. You need to be creative, solve problems, you are able to carry out a project from A to Z."
Zsófia Faur, IBS Alumni, Gallery owner