Up until now, IBS has managed to sign a strategic partnership with close to 80 corporate and organizational partners – all keen to employ highly educated and motivated talents with employability skills considered to be at a much higher level than those of their peers.
Our network of cooperation partners includes organizations and businesses of all sizes – both in the for-profit as well as non-profit sectors within and beyond the borders of Hungary. These market players offer part or full-time employment, traineeships, and graduate programmes, and often hold open days to introduce their fields of operation to students.
Internships and part-time jobs can also lead to a permanent role if the student's work has made a positive impact in the workplace. Many businesses use internships as a test to determine who would be a good fit for their organization.
Should your business or organization be interested in joining IBS' network of strategic partners, do not hesitate to get in touch with the Head of Business Network Centre, Andrea Hajdu. We'd be eager to share with you the areas where we could cooperate on a win-win basis.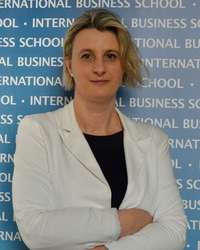 Head of the Business Network Centre and Career Office, Business Network Centre
E-mail:

Phone:
List of the prestigious partners we work with: