Our partners and collaborators include large multinational companies, but also small businesses, the not-for-profit sector, and non-governmental organisations at national and regional levels. In line with IBS' strong focus on practice-oriented education, it is fundamental to forge partnerships with corporations and our Alumni in the business community at large.
What are employers looking for in a graduate?
Corporate Strategic Partnerships aim to develop and maintain external relations with the IBS business network.
If you would like to be a business partner of IBS and know more about our cooperation, please get in touch with: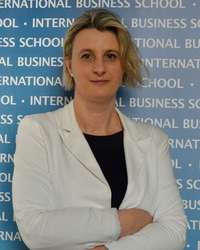 Head of the Business Network Centre and Career Office, Business Network Centre
E-mail:

Phone:
List of the prestigious organisations we work with:
| | |
| --- | --- |
| Company | Website |
| Accor Hotels Plc. | www.accor.com |
| Agoda.com | www.agoda.com |
| Air France/KLM | www.airfrance.hu |
| Aquincum Hotel | www.aquincumhotel.com |
| Auchan Hungary | www.auchan.hu |
| BMW Hungary Ltd. | www.bmw.hu |
| Borsodi Sörgyár | www.borsodi.hu |
| Boscolo Hotels Hungary Ltd. | www.budapest.boscolo.com |
| British American Tobacco | www.bat.hu |
| BP Service Center | www.bp.com |
| British Telekom | www.bt.com |
| Budapest Bank Plc. (Member of GE) | www.budapestbank.hu |
| Budapest Marriott Hotel | www.marriott.hu/budhu |
| Buddha Bar Hotel, Budapest | www.buddhabarhotel.hu |
| Canon | www.canon.hu |
| Celanese | www.celanese.com |
| Chemaxon | www.chemaxon.com |
| CIB Bank Plc. | www.cib.hu |
| Citibank | www.citibank.hu |
| Coca-Cola Beverages Ltd. | www.coca-cola.hu |
| Colgate-Palmolive Ltd. | www.colgate.com |
| Corinthia Grand Hotel Royal | www.corinthia.hu |
| Cushman & Wakefield | www.cushmanwakefield.com |
| Danubius Hotels Group | www.danubiushotels.com |
| Decathlon Hungary Ltd. | www.decathlon.co.hu |
| Deutsche Bank Plc. | www.db.hu |
| DHL Hungary Ltd. | www.dhl.hu |
| Diageo Hungary Ltd. | www.diageo.com |
| DREHER Brewery (SABMILLER) | www.dreherrt.hu |
| Egis Pharmaceuticals Plc. | www.egis.hu |
| Ernst & Young Ltd. | www.ey.com/hu |
| Erste Bank Plc. | www.erstebank.hu |
| Estée Lauder | http://www.esteelauder.hu/ |
| ExxonMobil Hungary Ltd. | www.exxonmobil.hu |
| FAO Shared Service Center | www.fao.org |
| Four Seasons Hotel Gresham Palace | www.fourseasons.com |
| FrieslandCampina Hungária cPlc. | www.frieslandcampina.com |
| GE Healthcare | www.gehealthcare.com |
| GE Holdings (Hungary) Ltd. | www.ge.com |
| Geometry Global | www.geometry.com |
| GlaxoSmithKline Ltd. | www.gsk.hu |
| GLC Global Leading Conferences | www.glceurope.com |
| GROW Organizational Development Group | www.grow.hu |
| HBO Hungary Ltd. | www.hbo.hu |
| Heineken Hungaria Breweries Plc. | www.heinekenhungaria.hu |
| Holcim Hungária Ltd. | www.holcim.com |
| Hotel Inter-Continental Budapest | www.intercontinental.com/icbudapest |
| Huawei Technologies Co., Ltd | www.huawei.com |
| Hunguest Hotels Plc. | www.hunguesthotels.hu |
| IBM Hungary Ltd. | www.ibm.com/hu/hu |
| InBev Ltd. | www.borsodi.hu |
| ING Bank Plc. | www.ing.hu |
| K&H Bank Plc. | www.kh.hu |
| KDB Bank Plc. | www.kdb.hu |
| Kempinski Hotel Budapest Plc. | www.kempinski-budapest.com |
| KPMG Hungary Ltd. | www.kpmg.hu |
| Kraft Foods Hungary Ltd. | www.krafteurope.com |
| Leo Burnett Hungary Ltd. | www.leoburnett.hu |
| L'Oréal Hungary Inc. | www.loreal.hu |
| Magyar Telekom | www.telekom.hu |
| Marks & Spencer Hungary Ltd. | www.marks-and-spencer.hu |
| McCann-Erickson Budapest | www.mccann.hu |
| MediaMarkt Saturn Holding | www.media-saturn.com |
| Metro Commercial Ltd. | www.metro.co.hu |
| Michelin Hungary Ltd. | www.michelin.hu |
| Millward Brown Hungary Ltd. | www.millwardbrown.com |
| MKB Bank Plc. | www.mkb.hu |
| MOL Hungarian Oil and Gas Plc. | www.mol.hu |
| Morgan Stanley | www.morganstanley.com |
| Mücsarnok Nonprofit Pc. | www.mucsarnok.hu |
| Nestlé Hungary Ltd. | www.nestle.hu |
| Nissan Motor Ltd. | www.nissan-europe.com |
| Novartis Hungary Ltd. | www.novartis.hu |
| Ogilvy and Mather | www.ogilvy.hu |
| OMV Hungary Ltd. | www.omv.com/hu |
| Opel Southeast Europe Ltd. | www.opel.hu |
| OPTAVITA | www.optavita.hu |
| OTP Bank Plc. | www.otp.hu |
| Peugeot Hungary Ltd. | www.peugeot.hu |
| Philips Hungary Ltd. | www.philips.hu |
| Porsche Hungary Trade Ltd. | www.porschehungaria.hu |
| Philip Morris Magyarország | www.pmi.com |
| PPG Industries Trilak | www.ppg.com |
| Pricewaterhouse Coopers Hungary | www.pwc.com |
| Procter and Gamble Hungary Ltd. | www.pg.com |
| Publicis Consultants l Budapest | www.publicis-consultants.com |
| Raiffeisen Bank Plc. | www.raiffeisen.hu |
| Reckitt-Benckiser Ltd. | www.reckittbenckiser.com |
| Ringier Publishing Ltd. | www.ringier.hu |
| Robert Bosch Ltd. | www.bosch.hu |
| Samsung Electronics Magyar Plc. | www.samsung.com |
| Sanofi-Aventis Ltd. | www.sanofi-aventis.com |
| Shell Hungary Plc. | www.shell.hu |
| Siemens Plc. | www.siemens.com |
| Sió-Eckes Ltd. | www.sioeckes.hu |
| Sony Hungaria Ltd. | www.sony.hu |
| Stamegna Retail | www.stamegna.eu |
| Szépművészeti Múzeum | www.szepmuveszeti.hu |
| Tata Consultancy Services | www.mytcscareer.com |
| Tesco Hungary Plc. | www.tesco.hu |
| The Ritz-Carlton,  Budapest | http://www.ritzcarlton.com/en/hotels/europe/budapest |
| The Walt Disney Co. | www.disney.com |
| TriGránit Plc. | www.trigranit.com |
| Trivago | www.trivago.com |
| UniCredit Bank | www.unicreditbank.hu |
| UniCredit Leasing | www.unicreditleasing.hu |
| Unilever Hungary Ltd. | www.unilever.com |
| Vodafone Hungary Ltd. | www.vodafone.hu |
| Wallis Motor Ltd. | www.wallispest.hu |
| Walt Disney | www.disney.com |
| Well Adverising Agency Ltd. | www.well.hu |
| Xerox Hungary Ltd. | www.xerox.hu |
| Young and Rubicam Budapest | www.yr.hu |
| Zwack Unicum Plc. | www.zwack.hu |