From a school that was founded in 1991 as the first private higher education college in Central Europe, International Business School has grown into a truly modern and dynamic business school.
It is an attractive place to learn and teach because of our collaborative culture – a blend of academic rigour, cooperative teamwork, entrepreneurship, diversity and continuous innovation. The academic experience we offer is providing our students from over 100 countries of the world not only with an undergraduate or postgraduate degree but skills and networking opportunities that bring lifelong competitive advantages.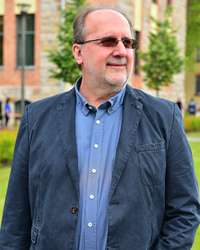 "We firmly believe that internationalisation is more than a market-driven necessity. Rather, it is an opportunity to provide intercultural education for our students with the resulting academic, cultural, intellectual and emotional gains in terms of their personal growth, sense of identity, self-esteem, life quality, openness and tolerance vis-a-vis others. We at IBS recognise and respect innovative curricula, modes of delivery and best practice developed by others in Europe and beyond."
Dr. László LÁNG, Rector
Vision and mission
Our vision is to be a regionally acknowledged, multiply accredited, multi-country provider of higher education services for a highly international and mobile student body, interested in the frontier areas of business and management.
Our mission is to provide economically and culturally relevant, English-language business and management-related education to people who can benefit from it. We are demand-led and customer-focused. We enhance learning, build confidence and create an opportunity for all who choose to invest in studying at our school.
We value:
creativity and innovation in the pursuit of excellence,
the potential of every person,
the expertise and commitment of our staff,
partnership and form strong and enduring collaborations where we can achieve more by working with other than alone,
quality and we continually enhance our quality assurance processes.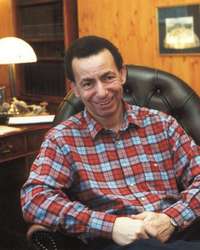 "I believe that a school in the third millennium must teach us to learn, work, and live together with others.
I believe that higher education in the third millennium must lay the foundations of lifelong learning.
I believe that a business school in the third millennium must prepare students for international business in a globalised world.
I believe that International Business School Budapest is the business school of the third millennium.
I am fully confident that IBS Budapest, founded in 1991, is an institution which stands on firm foundations both academically and financially. Our school trains professionals who, with their excellent linguistic, cultural and marketing skills, will be highly successful in their domestic as well as international activities."
Dr. István TAMÁS, Founder and Rector Emeritus
IBS opened its gates in 1991 welcoming students who wished to study business in English. The founders of the school had long term plans and thus they moved the college (practically run in some rented rooms of an office block) from Kelenföldi railway station to the second district, one of the most beautiful districts of Buda. In 2014, IBS moved to the north of Budapest and is now offering a real campus experience with 3 brand new buildings in a business environment. The completely renovated, reshaped and well-equipped buildings in Graphisoft Park – with the Residence Hall in its close vicinity – is a perfect place for studies as well as recreation with its riverside setting and garden.
Following a successful institutional accreditation in 1997, IBS became a recognized private college in Hungary, with the right to issue Hungarian college degrees (called Bachelor's degrees today) besides the English degrees.
Owing to the continuous and systematic development process, by now IBS runs eight Bachelor's and four Master's programmes in addition to the single programme (BA in Business Studies) available in 1991.
The first degrees were awarded in 1995; the number of IBS graduates by 2012 is over 3300.
Our graduates can be found in almost every country in the world, which provides enormous networking possibilities. To maintain this 'human' capital IBS treats its Alumni community as a top priority and organizes monthly Alumni Evenings. We are proud that every third graduate is an Alumni member, which is a very high rate considering that almost 50% of the students come from abroad.
| | |
| --- | --- |
| 2020 | 'MSc in IT for Business Data Analytics' programme |
| 2018 | MBA programme |
| 2017 | PhD programmes |
| 2016 | 25th birthday of IBS |
| 2014 | Brand new Budapest campus in Graphisoft Park |
| 2013 | MSc programmes in Vienna, Austria |
| 2013 | New programme portfolio, incl. 8 new BSc programmes |
| 2012 | Cooperation agreement with The University of Buckingham |
| 2012 | 'Superbrands' title in Hungary |
| 2011 | 'Superbrands' title in Hungary |
| 2010 | 'Superbrands' title in Hungary |
| 2010 | Accreditation by the British Accreditation Council |
| 2009, 2010, 2011 | 'Excellent business school with 3 palms' prize in the business school ranking by Eduniversal |
| 2008 | 'MSc in Marketing Management' programme |
| 2007 | 'BA in Arts Management' programme |
| 2007 | Exam centre for the Examination Board of the London Chamber of Commerce and Industry |
| 2006 | 'MSc in Financial Management' programme |
| 2004 | 'MSc in International Business' programme |
| 2004 | 'BA in International Business Relations' programme |
| 2003 | Accreditation by the Adult Training Accreditation Body |
| 2000 | 'BA in Finance and Accounting' programme |
| 1997 | Cooperation agreement with the International Advertising Association |
| 1997 | Accreditation by the Hungarian Accreditation Committee |
| 1991 | 'BA in Business Studies' course |
| 1991 | Cooperation agreement with our first British partner, Oxford Brookes University |