"Erasmus was the best thing in my life. Without a doubt. And all we've been through is something that no one back home will ever truly understand. After this, I will never be completely home again, because part of my heart is in Budapest with all my friends. That's the price you need to pay for the richness of loving and knowing such amazing people that changed me and the way I see the world. Thank you."
To start planning your Erasmus exchange period at IBS, first, you must contact the Erasmus coordinator in your Home Institution who has to nominate you officially.
After your nomination, you will receive an e-mail from the IBS Erasmus coordinator.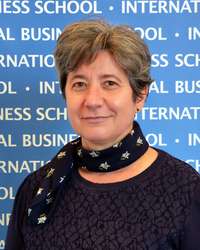 Senior Partner, Erasmus Co-ordinator, Centre for Student Services
E-mail:

Phone:
Nomination deadlines:
for the first semester (starting in September): April 15th
for the second semester (starting in February): October 15th
Application deadlines:
for the first semester (starting in September): May 15th
for the second semester (starting in February): November 15th
You will need to submit:
Application form 
(Please fill it in by computer and send it to us in the original Word format.)
Transcript of your results
Proof of English language competence
After you receive the acceptance letter, you are required to fill in your learning agreement (provided by your home institution).
Please do not book trips or holidays for the teaching or examination periods.
If you wish to stay at the Residence Hall, please also fill in the application for accommodation and return it to Mária Ortiz: osm@ibs-b.hu. Questions concerning accommodation should be e-mailed to this address. More information about the Residence Hall!
After your check-in, you will receive
your timetable for the semester;
a user ID for the IBS computer system;
a temporary student certificate ensuring cheap public transport. Note: this temporary certificate is valid for 60 days, after that it must be renewed.
You are required to pay for your printing at IBS. This can be arranged at the Cash Office (Room U1/117) prior to printing; also there you can buy a photo-copy card.
The library is free for all students. Details here:  Library
IBS operates a Moodle system which provides all information needed for your studies. All students have access to it.
The schedule for the examinations is published one month before the examinations start. Students have to sign up for the exams using the electronic student database and registration system called Neptun. No exams can be taken outside the specified examination times. In each subject, one exam date is provided. To attempt an exam students must have a valid coursework mark in the given subject (if the coursework mark is part of the assessment).
Advice and information for incoming Erasmus students
At the end of your studies, the transcript of your academic results will be sent to your coordinator in your Home Institution.
The marking system of our School in line with the British marking tradition is as follows:
Excellent 70%- Good 60%-69% Pass 50%-59% Low pass 40%-49% Fail -39%
The British grades given in percentage correspond to the European Credit Transfer System as follows:
ECTS GB% "A" – excellent 70%- "B" – very good 60%-69% "C" – good 55%-59% "D" – satisfactory 47%-54% "E" – sufficient 40%-46% "F" – fail -39%
You must achieve the minimum pass mark (40%) in both coursework and exam in order to get the credits for the subject.
Enjoy your stay at IBS!
Useful link:
https://esn.org/studentguidebook