Information is vital for any successful business enterprise and our library's role is to provide accurate, reliable and up-to-date information for our global business users: faculty, students, alumni and staff.
The IBS Library houses all the essential basic literature used in day-to-day coursework. The collection consists of 15,000 copies of books, 3,000 dissertations, and 30 journal titles (hard copy). The Library collection has three sections: a Bachelor, a Master, and an Arts Management collection. Students and teachers can find several copies of each bookmarked as "compulsory" or "recommended" in the general module descriptions. In addition, hard copies of the most well-known international business journals and magazines are available as well.
Besides the hard copies of books, the Library offers a wide range of links to electronic resources including business web sites and journals. Users can reach the most important online databases (EBSCO, EMERALD, Grove Art, SSRN, ECCH) with thousands of full-text journals, working papers, and case studies. The computer room of the library has 12 PCs.
Every semester the Library staff provide education for students about the use of the Library and its information resources.
The Library supports education based on case studies, therefore it has had a prosperous cooperation with ECCH (European Case Clearing House) for many years.
In addition, the IBS Library contains a fair amount of special literature. The staff provides support for students with their research work, report writing, dissertation writing, etc.  The librarians are able to browse the stock of other libraries and borrow books for readers through the interlibrary loan system.
Opening hours
Opening hours during Teaching Period:
Monday - Thursday: 9.30 a.m. - 6 p.m.
Friday: 9.30 a.m. - 2 p.m.
Saturday - Sunday: closed
Opening hours outside Teaching Period:
Monday - Thursday: 9.30 a.m. - 4 p.m.
Friday: 9.30 a.m. - 2 p.m.
Saturday - Sunday: closed
Registration and borrowing rules
Every IBS student is a member of the Library automatically. The loan period is usually 3 weeks but in exam periods only 1 week. Students can borrow a maximum of 8 books at a time from the Library.
The overdue fee is 200 HUF/day/document. (1000 HUF/day/document for reading room copies and books for reserved by someone else.)
Every borrowings, unless there is a reservation, can be extended many times during the actual academic year. (Extension can be requested by mail, phone, personally.)
Reading room copies are loanable in an exceptional case, under strict conditions for 1 night or weekend.
Library services may be denied in the case of unreturned books with expired loan periods or unpaid overdue fees.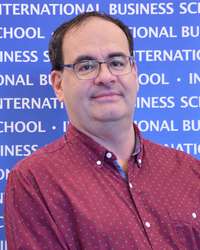 Librarian, Centre for Academic Services
E-mail:

Phone: