The mission of the IBS Library is to support teaching and research at the school by providing a constantly updated collection of documents, exploring their form and content, providing on-site office services (printing, scanning, photocopying), and ensuring undisturbed, quiet conditions essential for in-depth work.
THE LIBRARY'S RESOURCES
BOOKS:
The Library has a selective collection of domestic and foreign economic literature related to education, accompanied by an increasingly wide range of electronic resources. The collection of compulsory and recommended literature, as defined in the module specifications, is the most important task of the Library's resources development activities, while at the same time the specific needs of our students (e.g. thesis writing) with literature is also supported. The stock currently consists of more than 15,000 copies of 8,000 books, the majority of which are in English, but we also monitor and update our collection of books in Hungarian.
JOURNALS, DATABASES:
The library collects the most important Hungarian and international journals for business education and language teaching, whose digital publications are available. Through electronic databases, full-text access is available to the most important international journals in the field of science and economics (EBSCO, Emerald, ProQuest, JSTOR, Grove Art Online, SSRN, ECCH).
THESES:
The library collects and processes theses and dissertations written at the School. The theses are available to all enrolled students (except the classified ones) in the Library.
DOCUMENTS IN TEMPORARY STORAGE:
The Library holds the school's current leaflets, information publications, and cultural programme booklets for the local and wider community.
ENROLMENT AND LENDING
Library membership is automatic and free for students and staff of the School. External visitors are provided with on-site reading and inter-library loans.
LENDING CONDITIONS:
The loan period during study period is 3 weeks.
All loans may be renewed as many times as desired during the current academic year unless a reservation has been made.
You can borrow 8 books at a time.
In exceptional cases, reading room books may be borrowed in the evening or during weekend closing times, subject to strict borrowing conditions.
A fine is 200 HUF/day/document (1000 HUF/day/document for books withheld from the reading room and reserved books).
In the event of withholding loans or non-payment of the fine, the library's services may be suspended until the debt is settled.
INTERLIBRARY LOANS:
Both students and faculty may borrow from other library collections through the college library. The rules for borrowing in this case are those of the lending library.
OPENING HOURS
Monday-Thursday: 9.30 a.m. - 6 p.m.
Friday: 9.30 a.m. - 2 p.m.
Saturday-Sunday: closed
Monday-Thursday: 9.30 a.m. - 4 p.m.
Friday: 9.30 a.m. - 2 p.m.
Saturday-Sunday: closed
For more information about the Library for our students and tutors, please visit the Library page on Moodle.
We wish all our students good learning and smooth work!
Staff:
István Gráf, Librarian
Tel.+36 1 588 8672
E-mail: library@ibs-b.hu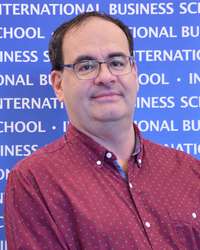 Librarian, Centre for Academic Services
E-mail:

Phone: