Budapest is famed for its nightlife. There are hundreds of amazing venues, bars, cafés open around the clock. The historical downtown area offers plenty of ideas for fun night ou, ranging from some of the trendiest dining options and galleries to the hottest pop/rock/electro events. The beautiful historic setting, spas and theatres mixed with a youthful vibe give you a truly unforgettable study abroad experience.
The Chain Bridge (Lánchíd) is probably the most famous sight of Budapest. It was opened in 1849 and was then the first permanent bridge across the Danube. It was rebuilt during the first and after the Second World War. At night countless bulbs illuminate the bridge. Children are told that in cold weather the bridge is pulled into the Buda-side tunnel.

The Parliament building on the Pest side was designed by the Hungarian architect Imre Steidl. It was constructed between 1884 and 1902 and was then the largest Parliament building in the world.
Make a trip by the cog-wheel railway, whose first line was put to operation in 1874, to Széchenyi Hill (439 m). The TV Tower is located on top of the hill with the Children's Railway running all along the Buda Hills. Normafa offers a splendid walk with a wonderful panorama of Budapest.
Budapest has two large central parks: Margaret Island is a 1.8 km long green island on the Danube and City Park (Városliget). City Park is Budapest's largest park and offers some interesting sights like Heroes' Square, Vajdahunyad Castle and Széchenyi Bath and Spa. City Park is located north-east of central Pest.
Budapest is famous for its bridges which connect Buda on the western bank with Pest on the eastern bank, over the river Danube. The main bridges in the city centre from north to south are Árpád híd and Margit híd (Margaret Bridge) at either end of Margaret Island, the famous stone Lánchíd (Chain Bridge), built by the famous Hungarian statesman, István Széchenyi, the white Erzsébet híd (Elizabeth Bridge), the forest-green Szabadság híd (Liberty Bridge) and the brand new Megyeri Híd.
Buda Castle was the residence of the Hungarian kings for about 700 years. Nowadays the baroque building houses some important art collections and museums. It has been destroyed and reconstructed many times over the centuries.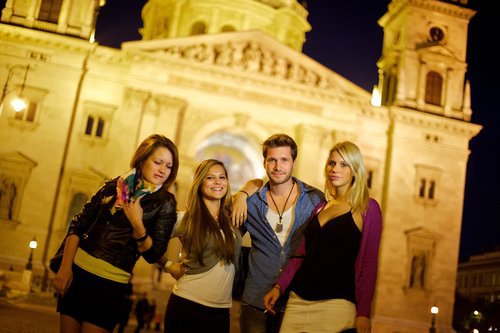 The Basilica (Szent István Bazilika) was completed in 1905 and is the largest church in Budapest. The dome is 96 m high and has a viewing platform around the cupola which offers great views of Budapest.
The neo-Romanesque style Fishermen's Bastion (Halászbástya) offers panoramic views of Pest –, especially of the Parliament. It was built between 1890 and 1905 and includes seven turrets and a labyrinth of tunnels and cellars.