Leading and managing people has never been easy, but with modern appraisal systems and career path management tools, you can now be more efficient than ever.
MSc in Strategic Human Resource Management (ranked no. 5 in Eastern Europe!*), mixing theory and practice successfully, offers an opportunity for in-depth study of organisations and the management of work. Graduates are equipped to pursue a wide variety of career options in the HR arena, including employee relations, employee development, assessment and recruitment.
Please find the curriculum here.*
* IBS reserves the right to change the curriculum.
Please find the programme specification here.
Duration of study period
3 semesters**
Starting date
February***, September***
Tuition fee per semester in Budapest
(payable for the first 2 semesters only)
€ 5,900
Tuition fee for the full programme
€ 11,800
One-off registration fee for non-EU citizens
€ 900
Degree awarded by
The University of Buckingham and IBS
Campus
Budapest
Admission criteria
• first or second class Bachelor's degree in any field of study
AND
• Online Orientation Interview + IELTS 6.5 or equivalent****
Language of tuition
English
**The 3 semesters consist of 2 on campus semesters and 1 dissertation writing semester.
***The start of each MSc programme depends on a sufficient number of students (at least 15 students per programme).
****i.e.: TOEFL 79, Duolingo 105, IBS own English test, etc. Please find further details here.
Business data analysis, planning HR management, employee life-cycle management, performance appraisal and management, leading and managing people, CSR, coaching, business strategy, cross-cultural management skills. The curriculum is indicative and is subject to change.
Please find the degree sample here.
Knowledge & Understanding
Students upon graduation should be equipped with
global economic and managerial issues as they relate to strategic decision making;
contemporary issues of HRM, including human resource planning, talent management, performance management systems, and coaching techniques;
practical implications of theories regarding recruitment & selection, training & development, career & human capital management, and performance & reward management;
appropriate techniques and tools to deal with complex issues critical to the success of managing people in organisations.
Disciplinary & Professional Skills
Upon completion of this course, students should be able to:
To create an opportunity for students to enter human resource management positions in companies and develop people management skills.
To study, review, and put into practice both the "tried and tested" techniques and the latest concepts of human resource management.
To develop a critical awareness of the global business environment and the relevant tools required to make a global organisation successful in managing its human resources.
To develop an understanding of how relevant HRM techniques can be applied in the organisation to overcome ethical and professional issues at different managerial levels.
To develop international managers, skilled in interpersonal and cross-cultural communication, and capable of effective communication of all stakeholders of the company.
To create a global and strategic mindset and to develop sensitivity to learning from other cultures.
To build an appreciation in students of the need to continuously develop skills and knowledge throughout their careers.
This programme provides graduates with excellent career opportunities, including positions in Employee Relations, Employee Development, and Recruitment. Organisations recognise that a strong HRM team is an essential part of a business enterprise, and the HRM course will train students to perform effectively in many roles.
Our graduates are working in the areas of recruitment, performance and talent management, and organizational development at banks, hotels, or HR consulting companies.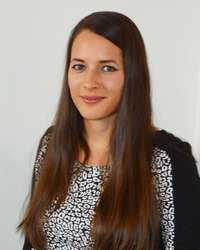 "We not only talk about multiculturalism but we experience it."
Fruzsina Selmeczi, MSc student, Hungary
"We attach high importance to IBS students being committed and having a humble attitude to work. In our experience they are determined to do their tasks and we can count on their work in the long run."
Judit Vértesi-Nagy, Coca-Cola HBC Hungary Ltd.