Challenge yourself with IBS' and Emirates' International English Trivia Competition and win a trip to your dream destination anywhere in the world!

IBS International Business School and Emirates invite all 11th and 12th-grade secondary school students in Hungary to join its unique competition where English skills and global knowledge in history and geography meet.
Details:
1st round: Quiz of 100 questions (history, geography, culture, public knowledge) in English and an essay of 250 words.
2nd round: 10 students with the best results are invited to a public final at the Budapest campus of IBS, where they have to fill out a new quiz and make a 10-minute presentation about a given topic. 
Prizes: 
1st place: Return ticket and accommodation to anywhere in the world* for two persons for one week (*with flights operated by Emirates)
2nd place: a 1-week trip to a European country of choice of the winner (ticket and accommodation for two persons for a week in a European country)
3rd place: European weekend (ticket and accommodation for two persons for three days in a European country)
At least one passenger must be at least 18 years of age at the start of the journey.
Special prize of 250.000 Ft for the assisting teacher of the winner (1st place)
Special prize of 1.000.000 Ft for the secondary school where the winner student (1st place) comes from
Timeline of the competition:
The deadline for application: 21 January 2022 (until 11.59 pm) The application form is closed, shortly we are going to inform the participants about the next stage.
1st round: 18 March 2022 (between 4 - 6 p.m.)
You can find the correct answers here.
The results will be announced latest until 8 April (Friday, until 23.59 p.m. CET). Everybody will be contacted via email.
Results after the 1st round:
Thank you to all the participants who attended the first round of our competition. Congratulations to the top 10 (11!) students!
Boldizsár Andacs - ELTE Radnóti Miklós Gyakorló Általános Iskola és Gyakorló Gimnázium, Budapest
Péter Gáspár - Xántus János Két Tanítási Nyelvű Gimnázium, Budapest
Gábor Kocsis - Soproni Széchenyi István Gimnázium, Sopron
Máté Kollár - Petőfi Sándor Gimnázium, Budapest
Balázs Komáromi - ELTE Bolyai János Gyakorló Általános Iskola és Gimnázium, Szombathely
Rozi Szabó - ELTE - Apáczai Csere János Gyakorló Gimnázium, Budapest
Soma Szabó - Szent István Gimnázium, Budapest
Zsolt László Szabó - Tatabányai Árpád Gimnázium, Tatabánya
Bence Szőcs - Budaörsi Illyés Gyula Gimnázium, Szakgimnázium és Technikum, Budaörs
Kristóf Urbancsok - Horváth Mihály Gimnázium, Szentes
Domonkos Pál Varga - Fasori Evangélikus Gimnázium, Budapest
Congratulations!
2nd round: 22 April 2022 (between 2 - 6 p.m. approx.)
2nd round quiz and the correct answers can be found here.
The final results
Place
Name
Presentation*
(max: 100 points)
Quiz
(max: 100 points)
Total
(max: 200 points)
1st
Domonkos
Pál Varga
96
60
156
2nd
Rozi Szabó
90
53
143
3rd
Péter Gáspár
81
60
141
4th
Balázs Komáromi
83
57
140
5th
Kristóf
Urbancsok
95,5
42
137,5
6th
Gábor Kocsis
77,5
56
133,5
7th
Boldizsár Andacs
82
49
131
8th
Zsolt
László Szabó
78,5
49
127,5
9th
Bence Szőcs
55
72
127
10th
Máté
Kollár
54
51
105
*The presentations were evaluated on the basis of the content, the structure, the English language skills and the presentation skills.
The date of the award ceremony: 27 May 2022
We reserve the right to change!
More information via email: ibsworldtour@ibsbudapest.com.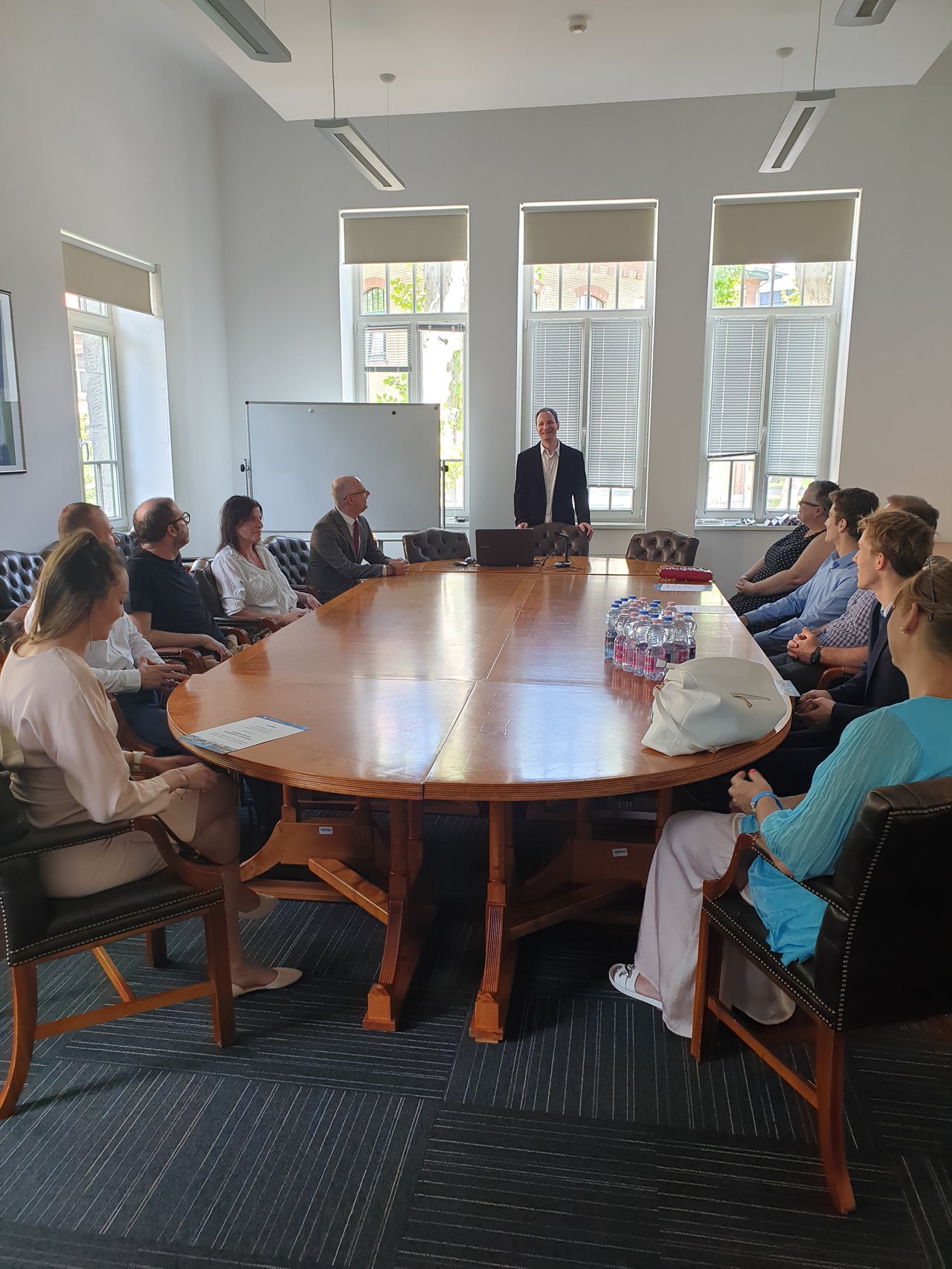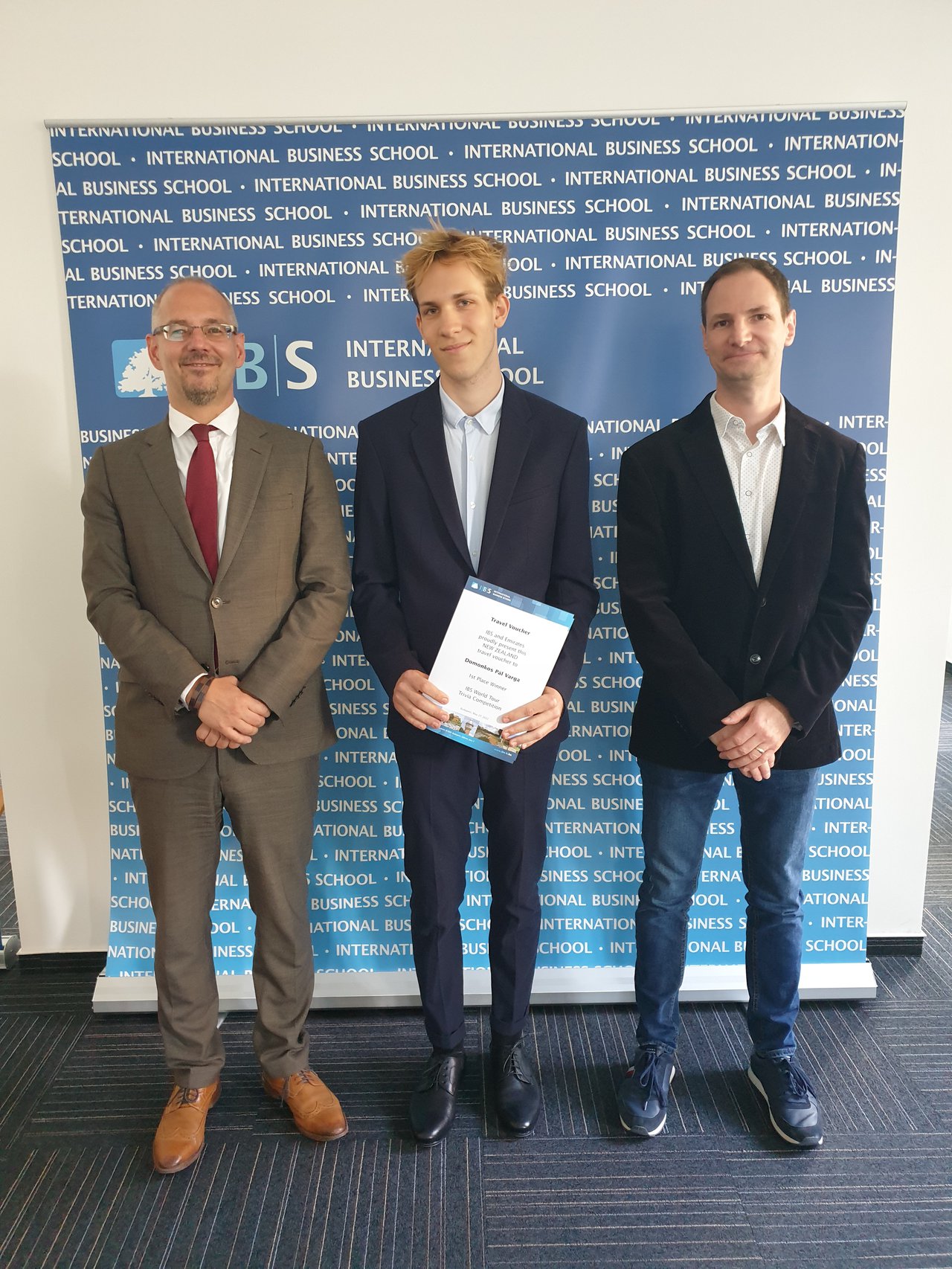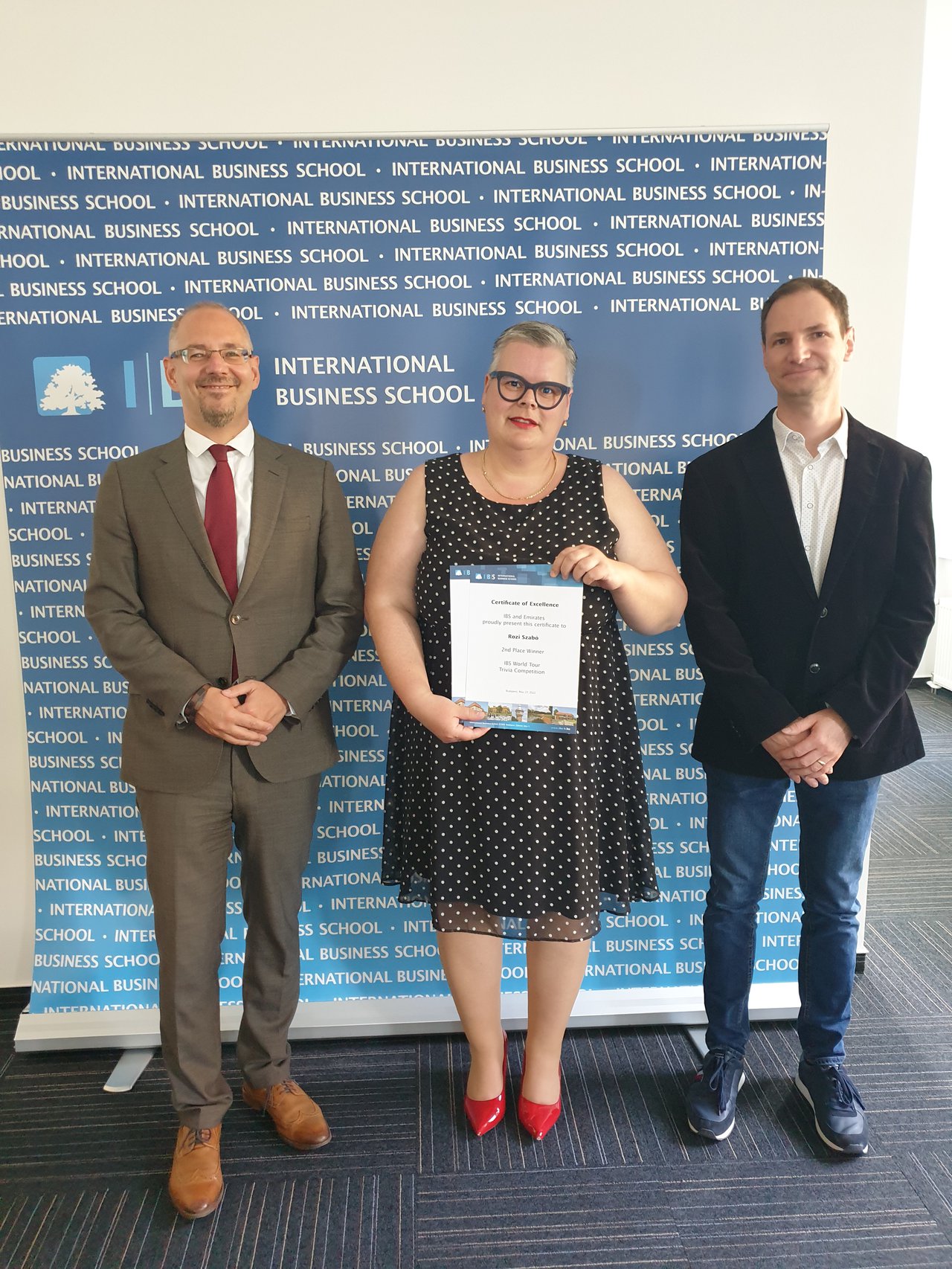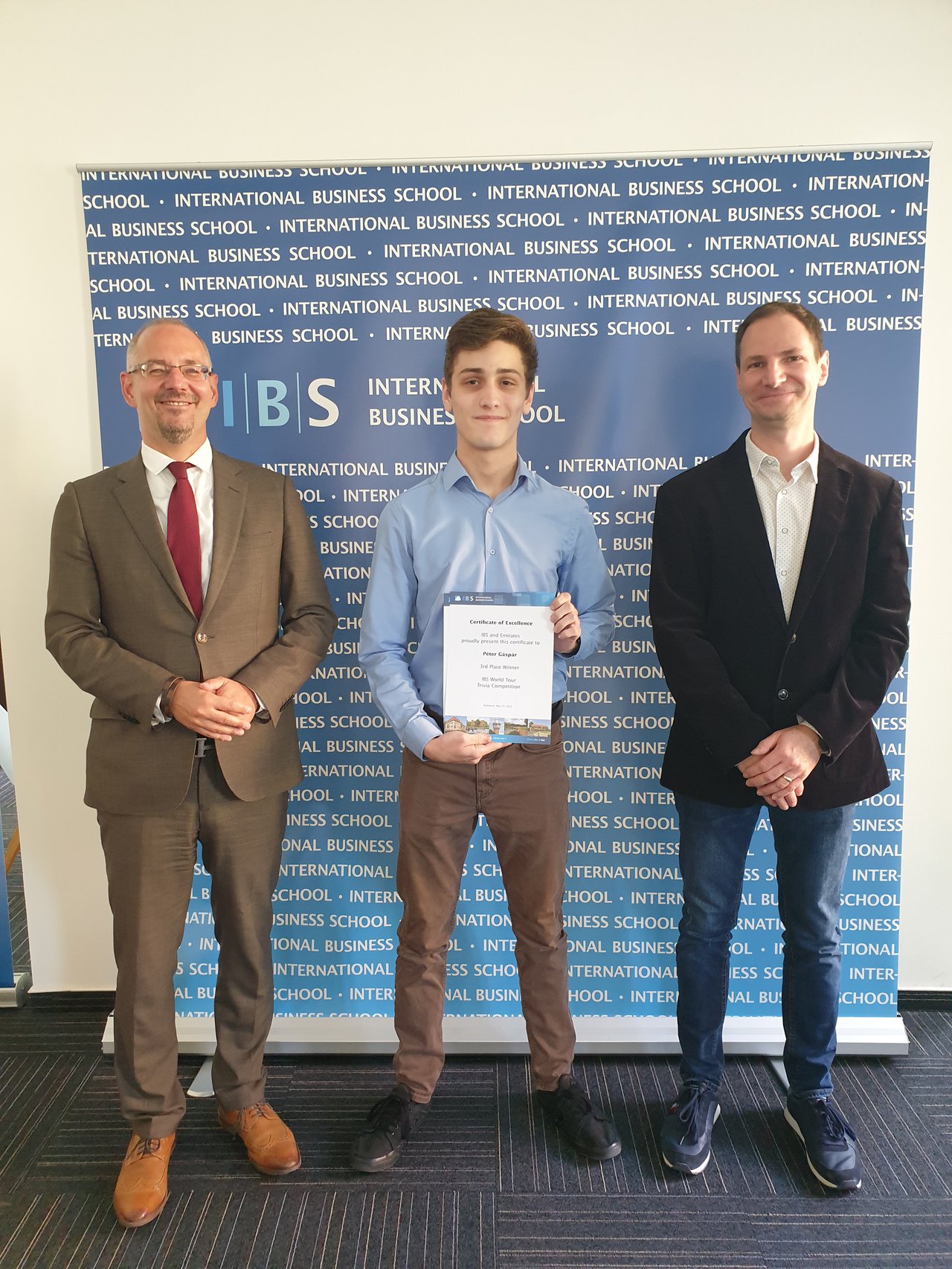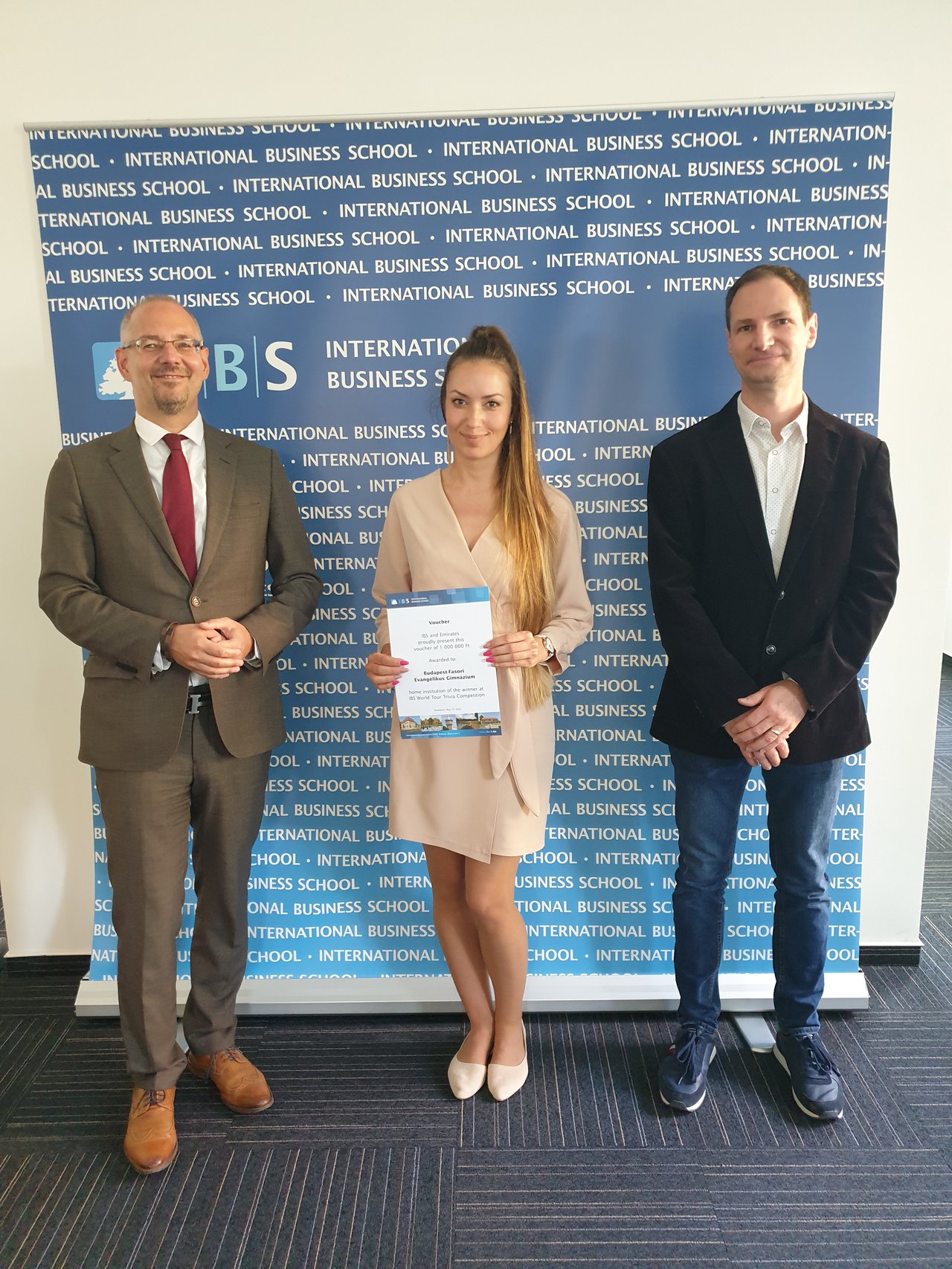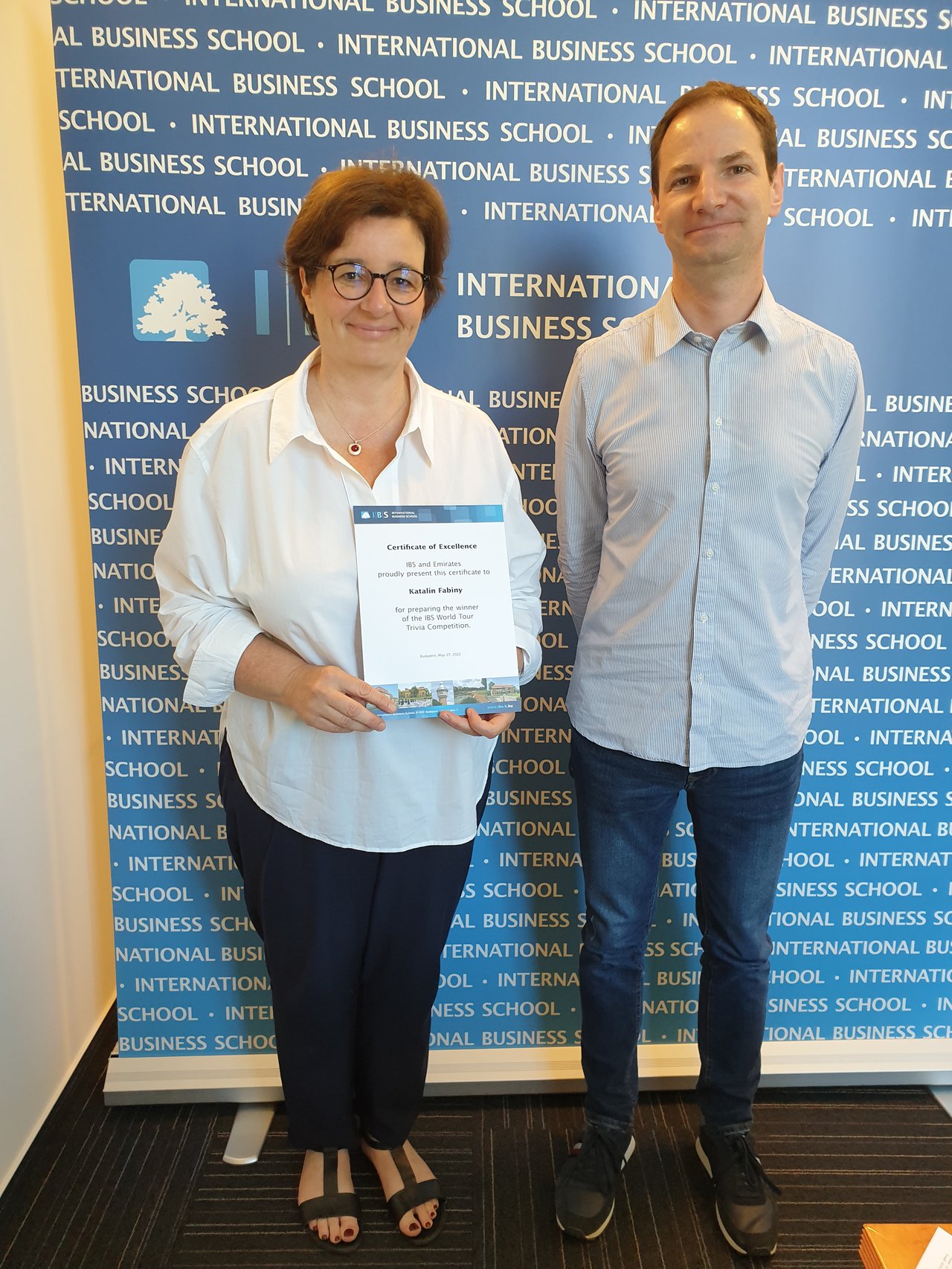 The test in the first round will take place in Budapest on the campus of IBS in March 2022.
Students will have 90 minutes to complete the test and they will have 30 minutes to write the essay, which will be a general topic, asking for the opinion or experience of the student, will not require any special knowledge. There is no application fee or other fee involved, participation is free of charge for everyone who wishes to join the competition.
Here are some sample test questions.

1.You decided to discover Europe and rented a car. You drove it from Budapest and visited some cities, always using the shortest routes between them. Your route was the following: Budapest - Linz - Munich - Zürich - Lyon - Turin - Milan - Venice - Zagreb - Budapest. How many times did you have to cross country borders?
A. 5
B. 6
C. 7
D. 8

2. Which play was not written by William Shakespeare?
A. As You Like It
B. Pygmalion
C. Comedy of Errors
D. Antony and Cleopatra

3. Who was president of the United States at the time of the 1956 Hungarian revolution?
A. Dwight D. Eisenhower
B. John F. Kennedy
C. Ronald Reagan
D. Harry S. Truman
4. A direct flight from Budapest to Moscow takes approximately…
A. 1 hour
B. 2.5 hours
C. 3.5 hours
D. 4 hours

5. Which language is NOT an official language in India?
A. Malay
B. Hindi
C. Marathi
D. Yoruba

6. Which English proverb is correct?
A. Don't judge a book in one basket.
B. A bird in the hand keeps the doctor away.
C. Don't count your chickens before they hatch.
D. If you can't beat them, prepare for the worst.

7. What is the currency in Kenya?
A. Kenyan Schilling
B. Dollar
C. Kenyan Frank
D. Kenyan Pound
8. If you are standing in front of Casa Rosada, which city are you in?
A. Buenos Aires
B. Mexico City
C. Madrid
D. Valencia