Where there is data smoke, there is business fire. In this era of data and technological innovations, learning and sharing knowledge about data, business, and their relationship is crucial. Data by itself is useless. Data is only useful if you apply it. Henceforth, the Data Club is to enable learning of practical implementation of information in business.
The mission of the Data Club is to enable data and business enthusiasts to collaborate, learn and share information that can enhance their careers. Data club would extensively conduct knowledge sharing sessions, workshops, and events which will include information about emerging and prospective tools, technologies, and concepts that are needed to help professionals build a strong foundation or a solid career in their desired data/business branch.
Now, that we have explained our clubs' activities. We would like to welcome all the students who are attracted and curious about the words "data-driven decision making" joining this club will enable professionals to discover career-oriented knowledge that is hidden.
To become a member of our club we would like you to kindly register and we will send you an invite for our social media platforms and other events.
Our first event will be a welcome party to introduce every new member to the data club team. As the second event, we will also be collaborating together to gain knowledge from the workshop "How does Google Data Studio work?" In this workshop, participants can gain knowledge about data exploration and visualisation, live dashboard creation and presentation, and much more.
We are expecting and thrilled to collaborate, share and learn.
Board members: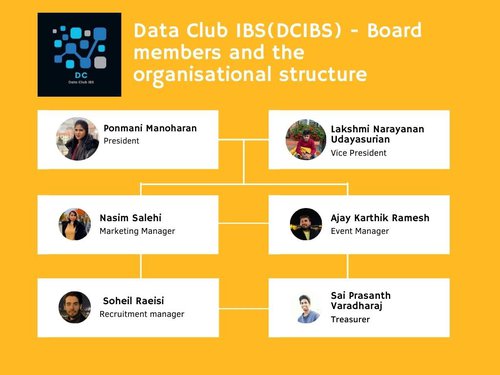 Event Manager: Ajay Karthik Ramesh (email)
Social media sites:
Instagram & LinkedIn