Where are you from originally?
I am from Iran, from Tehran. I came to Hungary in October 2000 together with my brother. It was rather soon that I decided to stay in Hungary. I began studying engineering, informatics and software at the technical university. But I am really a business type of person, so I applied to IBS in 2004. Actually, I was the first Iranian person to apply here. In 2005 I became the exclusive recruiter to Iran.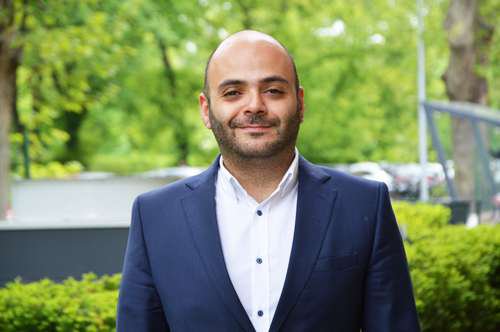 Did you travel to and back to do this job?
There were many Iranian students here in Budapest and in Hungary who were not happy with their school for various reasons. So, I started recruiting in Hungary, in Budapest, in Pécs. I was doing that for years and I will continue to that in a bit changed format.
I am a Hungarian citizen now, but I had to learn a lot for it. I also had to pass an exam of Hungarian history, I learnt the national anthem, etc. I also needed to speak Hungarian. By now, I can say that half of my conscious life I spent in Hungary, I wanted to stay here and I wanted to become a Hungarian citizen. My brother studied general medicine in Iran and he wanted to become a specialist. At first, he wanted to go to Germany, but then we decided to come to Hungary. He did not speak the language and he could not study towards his specialization. Anyway, he stayed, he studied, learnt Hungarian. We were also lucky, I rented a flat and the owner of the apartment was a Hungarian gynaecologist. This doctor asked my brother what he wanted to do and the result was that he helped my brother with a lot of advice. Eventually my brother became an oncologist surgeon.
I did both my BSc and MSc studies at IBS as well, I finished in 2008 and I specialized in marketing management. After IBS I went to Pécs to do a health management study and this time I already studied in Hungarian.
Did you already consider to set up a health business?
There is a need for private health services in the country. Approximately a year and a half ago, we started our private clinic, Villa Medicina. We have gynaecology and pregnancy care service, urology, laboratory tests, naturopathy, among others. The machines and the equipment are very expensive but it is possible to run a clinic like that. Our clinic is the only place where we can do a 3 dimensional prenatal screening with ultrasound, we make holograms where you can see the baby, and even a baby sculpture, all these are really new stuff. We are also interested to run a surgery where patients can go home after a surgery. A same-day clinic can really help to reduce the costs of medical care which is very good for the state health system as well. This is our next plan. It will be an exclusive great place but we need to be working on it yet.
How do you get great professionals?
Our great advantage is that we can select the best doctors for the private clinic through my brother's experience. More than 35 doctors are working for me as employees. We are also interested in education. Young doctors would like to get extra education.
Over the years, I could also work out a good network of friends and colleagues here in Hungary. With a friend of mine, we own a sport bar as well in the city, in Nagymező utca. It is called "The House," mostly foreign students and tourists love it. There are events like movie nights when people bring their pillows. There are people living in this town who want to be at a place which is like "home," ; the aim is to provide them with one. I have different businesses and I communicate with people daily, so it is a good basis to learn about needs.
How do you remember your IBS experiences?
I went to other universities as well here in Hungary, as I mentioned, so I can compare them. The professors at IBS are friendly. I liked the interactivity of IBS teaching and learning, the timing, the place, the scaling, how the different duties are scheduled throughout the semester. The school is not like a huge public institution. I also liked that I could choose between writing a dissertation or doing a project for my MA. At that time I owned a company that was dealing with public space advertisement lighting, by the way, the market went down since then, so I had to close that company. Anyway, I wrote my project of the cash flow management of my own company. I especially have fond memories of a great professor who helped me a lot, John Netting.
How do you feel about your choice to come to Hungary and not to elsewhere?
My grandfather was a kind of governor, ruler at a certain territory in Iran. Our family still holds huge lands of pistachios, and there is an area still bearing his name, Mahmudabad, "abad" means "he, who makes changes." When he died, he left this big land to his 7 sons, my father among them. Parts of my family is living in Germany, parts in Sweden, in the US. I am happy I came to Hungary. There is opportunity here, I am not sure I could have my own clinic in Tehran. I became Hungarian.