We are delighted to report the success of our third International Week, themed "Contemporary Challenges in Higher Education." This event, dedicated to our valued Erasmus+ partners, took place from the 25th to the 27th of October at IBS and truly showcased the spirit of collaboration and global learning.
One of the highlights of the event occurred on Wednesday where our distinguished guests presented on a range of captivating topics, each lasting approximately 15 minutes with time for questions and answers.
First, we explored the intriguing subject of "Artificial intelligence - danger or gain for humanity" in a lively discussion that had to be paused by the moderator to ensure there was enough time for the other engaging topics. Afterward, we delved into "Ethics in people management: Current trends and recommended practices," offering fresh insights into responsible leadership. We also had a presentation and a dynamic discussion on "What impact will AI have on the way we interact with computers?" which revealed exciting possibilities for human-computer interfaces. This was followed by a discussion of "Consumer 4.0 and the impact on business models," providing valuable insights into evolving consumer behavior. The program concluded with a discussion on the importance of "Developing classes regarding climate change," a pressing issue in modern education.
In addition to the insightful presentations, participants had the opportunity to teach classes and attend various educational sessions, as well as an Erasmus Fair for students, further enriching the exchange of knowledge and experiences.
The International Week is an annual event providing a unique platform for our colleagues from abroad to connect, collaborate, and nurture lasting relationships. We extend our sincere appreciation to all who participated (especially UCLL Belgium, VIVES, Belgium, STEYR Austria, COMENIUS Slovakia, AUAS Netherlands), contributing to the event's remarkable success. Together, we continue to set new standards in international higher education. Thank you for your enthusiastic participation, and we eagerly anticipate more enriching interactions in the future!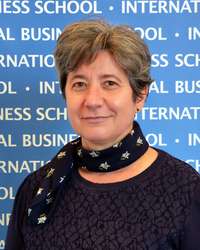 Senior Partner, Erasmus Co-ordinator, Centre for Student Services
E-mail:

Phone: